PROFILE
Corneliu Chisu
Vice President
World Genesis Foundation

Corneliu Chisu
Professional Profile and Experience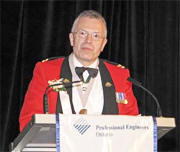 Graduate of Electrical Engineering (B.Eng. Polytechnic University of Bucharest, M.Eng, (University of Toronto) Engineering Physics Specialty. Expert Advisor in engineering, management, professional regulations, technology transfer and international co-operation to Canadian and international organizations.

Aug 09 – present, GENIVAR, Project manager. Project Management, Infrastructure.

Jun 08 – Mar 09, CFB Petawawa, 2 Area Support Group (ASG) HQ Staff Officer 2 (Major) Infrastructure. Engineering manager, Land Forces Central Area (LFCA) Infrastructure.

September 2007 – May 2008, Construction Engineering Officer (CEO), Land Forces Central Area Training Centre (LFCA TC Meaford) – in charge with infrastructure, engineering and training development projects financing and management.

Jan 2007 – August 2007, Requirements Officer, Engineer Support Unit (ESU) Kandahar, Afghanistan, HQ – Task Force Afghanistan, in charge with infrastructure and military construction engineering.

July 2005 – January 2007, Construction Engineering Officer (CEO), Land Forces Central Area Training Centre (LFCA TC Meaford) – in charge with infrastructure, engineering and training development projects financing and management.

November 2004 – July 2005, G3 Plans 32 Canadian Brigade Group (32 CBG) - planning military tasks for the brigade

March 2004 - November 2004, G3 Engineer at Headquarters, Multi-National Task Force (NW) Banja Luka, Bosnia and Herzegovina - Engineer advisor to the Task Force Commander.

Feb 2003 - March 2004 Staff Officer Infrastructure, Department of National Defence (DND), Land Force Central Area Headquarters (LFCA HQ), Area Engineer Branch Toronto in charge with infrastructure projects.

April 2009 – present, Association of Professional Engineers Ontario (PEO), Vice President, elected

December 2001 to August 2007 - Public member (Lieutenant Governor Appointee) of the Building Materials Evaluation Commission (BMEC). Involved in new building materials approval process in the Province of Ontario.

Jan 1, 1995 to present - Owner, President Lightallied Technologies Corporation, involved in Air Cushion Technology Transportation Systems (hovercraft) and Engineering Management. Prepared feasibility study and a business plan for 10 million dollar investment in a rapid, year round, viable, effective, efficient, economic and safe mode of transportation for people and merchandise, between the City of Toronto and the Niagara Region based on air cushion technology.

Jan 1, 2000 to Nov 26, 2001 - Professional Engineers Ontario (PEO), Applications Process Administrator. Engineering regulation specialist. Supervised all aspects of the engineering licensure process in evaluating the academic qualifications and assessment of work experience of engineer applicants. Compiled and issued PEO admission guidelines for the licensure process of foreign trained engineers and liased with government ministries, agencies, engineering faculties and other stakeholders.

May 23, 1990 to present - member of the Canadian Armed Forces. Officer military engineers (major ret'd)) specialized in military civil engineering management and demolition work. Qualified as staff officer (a graduate from the Militia Command Staff Course Canada and from the Romanian Reserve Officers School, specialty Radar Operations). Presently Capt in the Cadet Instructor Cadre (CIC) branch.

December 5, 1995 to June 2004 - Honorary Consul of the Republic of Moldova in Canada (Head of the Consular Post in Toronto). Involved in bilateral and multilateral diplomatic relations.
2003-2004 - Secretary of the Consular Corps of Toronto

December 2000 to March 2004 - Public member (Lieutenant Governor appointee) of the College of Medical Radiation Technologists of Ontario. Involved in Health Professions Regulations, member of the Quality Assurance Committee.

Nov 1, 1982 - Dec 31, 1994 - Sr. Trade Analyst at the Italian Trade Commission in Toronto. Advised and established strategies for the promotion of Italian manufactured goods and technologies on the Canadian market with extension to the immediate US market in the framework of FTA and NAFTA agreements. Assisted Italian companies to comply with Canadian Standards and Regulations. Assisted the Trade Commissioner and took on management functions in the absence of the Trade Commissioner.

Nov 1, 1976 - Aug 1, 1981 - Technical, Policy and Trade Advisor at the Italian Embassy in Bucharest. Advised the Italian Ambassador on trade negotiation policies, contracts and strategies with the Romanian Government in the framework of bilateral agreements.

1972 - Nov 1, 1976 - Research Scientist and Teaching Assistant at the Energy Research Institute and Polytechnic University of Bucharest, Romania. Project Leader on infrared research contracts and production supervisor of special infrared, photovoltaic and semiconductor devices.

1971 - 1972 - Reserve Officers Military School - Ploiesti, Romania - Radar Operations Officer. Radar operations activities.



Volunteer and Community Services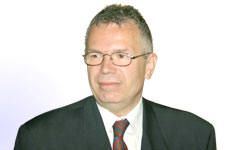 § Vice President World Genesis Foundation, USA;
§ 2003-2004 Secretary, Consular Corps Association of Toronto;
§ 2000 - Skills for Change made several presentations and participated in community outreach, helping foreign trained engineers acquire an understanding of the Canadian job market and access to the engineering profession;
§ 1999-2003 consistently participated in community outreach;
§ 1993-1995 Chair PEO Scarborough chapter and member of the executive from 1993 to present;
§ mid 1990s CESO (Canadian Executive Services Overseas) was sent on two missions one was to Bucharest, Romania, where he assisted in technology transfer to a fledgling computer engineering company, and the other was to Fort Albany, James Bay, Ontario, where he advised First Nations on technology transfer and marketing of their artwork; and
§ 1980s Access to Professions Task Force actively lobbied for admission of foreign trained engineers to PEO.



Languages

Fluent in four languages (English, Italian, Romanian, Hungarian), working knowledge of French, Russian, and German.



Membership

Canadian Armed Forces - Officer, Military Engineers and Cadet Instructor Cadre (CIC)
P. Eng. - Professional Engineers Ontario (1989) – elected Vice President 2009 and 2010
CIMPA (Canadian Inteligence and Military Police Association), Regional Director
WGF (The World Genesis Foundation), Rochester, New York, USA, Vice President
CET - Ontario Association of Certified Engineering Technologists
The Royal Canadian Legion, Branch 258
Masonic Order, Scarboro Lodge
ATIO - Association of Translators and Interpreters of Ontario
MEAC - Military Engineers Association of Canada
CCAT- Consular Corps Association of Toronto
Empire Club of Canada
Royal Canadian Military Institute (RCMI)
The 78th Fraser Highlanders -York
Association of Canadian Hungarian Engineers, Executive
Association of Canadian Romanian Engineers, Executive
Ontario Club
National Club
CESO – Canadian Executive Services Organization (Aboriginal and Overseas Advisers to Business)



Awards

Canadian Forces Decoration (CD)
Passed Militia Staff Course, 2002 - Canadian Land Force Command and Staff College (PMSC)
The Commemorative Medal for the Golden Jubilee of Her Majesty Queen Elizabeth II
The NATO medal for Balkan Operations
The Canadian Peacekeeper Medal
The Province of Ontario Volunteer Award 2005
The Professional Engineers of Ontario Order of Honour 2006
The Afghanistan General Campaign Star, 2007





---
Support our Mission
There are many ways to join our mission to "leave no child without hope for the future."
---