PROFILE
Sorin G. Repanovici
Vice President
World Genesis Foundation

Sorin G. Repanovici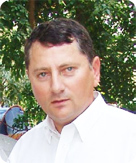 Sorin Repanovici has dedicated more than 20 years to youth programs and activities, reaching tens of thousands of people worldwide. In the face of great challenges and political turmoil, his is an amazing story!

Sorin Repanovici was born on 31 March, 1969 in Cernavoda Romania. His higher education includes Journalism and Philosophy, Political Science and Protocol Activities for Governmental Institutions.

He began his career with the Ministry of Youth and Sport with great success as an advisor and expert. He eventually became Chief of Protocol and Security and then moved to become Chief of the Ministry Office. Following this, he moved to the National Commission for Nuclear Activities, again with great success as a Senior Advisor for the International Division, Head of the Physical Protection Section, and Head of the Section for Safeguard, Physical Protection and Special Transport.

Sorin Repanovici's professional career also includes many international activities and advanced study programs in the United States, Germany, England, France, Austria and Slovakia.

Throughout his career he has repeatedly demonstrated his passion and leadership in creating new hope and opportunities for youth. Sorin has led programs as the President of the National Youth Federation for Prospective Science and Science Fiction in addition to being a Director of the SocRaTe Foundation, focusing on education through radio and television.

Sorin Repanovici is presently an executive for programs of the Center for Complex Study and is the Vice President for the World Genesis Foundation whose global mission is to "Leave no child without hope for the future."

Sorin has received multiple awards and recognition for his activities and leadership of youth programs from agencies including, but not limited to: The European Science Fiction Society, the Ministry of Youth and Sport, The Romanian National Convention of Science Fiction Clubs, as well as other organizations worldwide for his leadership in founding and coordinating the Atlantykron Summer Academy of Learning.

In 2009 Sorin Repanovici was awarded the Lifetime of Hope Award for repeatedly demonstrating for more than 20 years a real passion, true commitment and clear results in creating new hope and opportunities for youth of the world.
---
Support our Mission
There are many ways to join our mission to "leave no child without hope for the future."
---